Puerto Rican Cuisine At Café Mundo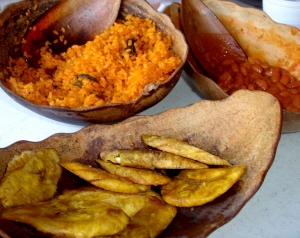 We will open on Friday March 13th, 2020. We will have a seating available at 11 am and another one at 12 pm. Please make your reservations at …… cafemundo@hallco.org INCLUDE name, time and number of persons in your party.
You may also order for pick up. If you choose this option, please e-mail us your selection from the menu below and time. Pick up is in room 516 at AOD WLA hall way at your requested time.
There s a $9.00 suggested donation that helps support our culinary arts program.
Thank you in advance for your support.
THE MENU
Puerto Rico
Open on March 13, 2020
Appetizers:
Tostones con salsa de mojo
Tostones con salsa de mojo: fried plantain with a garlic sauce on the sauce.
Rellenos de papa
Rellenos de papa is a dough made out of potato and inside out if is meat.
Entrees:
Pastelón de plátano amarillo
Pastelón de plátano is a lasagna like dish but instead of pasta it uses plátano.
Pernil asado con arroz con gandules
Pernil asado con arroz con gandules is a simple dish constructed with pulled pork and brown rice.
Desserts:
Tembleque de coco
Tembleque de coco is a flan like dish with cinnamon
Pastelitos de guayaba
Pastelitos de guayaba is a pastry like bread with guava paste on the inside.
Drinks:
Coquito (sin alcohol)Coquito is a milky like drink kinda like coconut smoothie topped with sprinkle a cinnamon
Jugo de pracha: Passion fruit juice